Sample Refinishing Work
We provide a full range of refinishing and restoration services including:
Repairing broken or damaged furniture
Repairing or touching up a damaged finish
Cleaning, waxing & polishing
Stripping, Coloring and Refinishing
Antique Repair and Restoration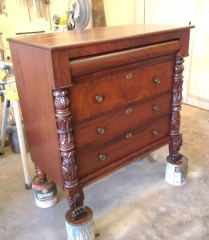 This Empire chest recently came in and while it was structurally in great shape, the veneer was damaged in many areas. I was able to patch and repair the worst spots in such a way that they are very difficult to find. During the refinishing process I treated the carved post in a manner that highlights the carvings and makes them much more pronounced. Here's a picture after it was restored to its original condition.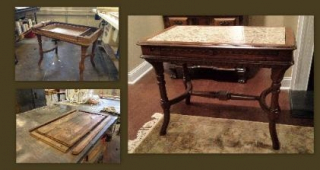 This 1870's – 1910 era desk was recently brought in for restoration. Originally the top was covered in be reworked and restored. We were able to use all the original pieces, maintaining the integrity of the piece. Since there was no choice but to replace the top, the client and I opted to inlay marble into the surface. Enjoy!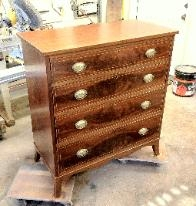 This 1780's – 1820 circa Federal Period chest  was in a state of disrepair when we received it. The drawers were in pieces and many sections of the holly inlay had been chipped out. Here's a picture after we restored it to its original condition.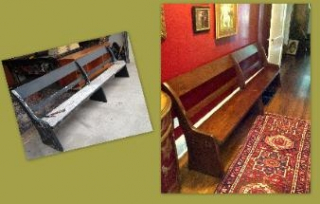 Don't you love the way this old church pew was used in the hall. We stripped all the old paint off to reveal beautiful heart pine. We refinished with a reddish brown stain which highlights the natural beauty and age of the piece.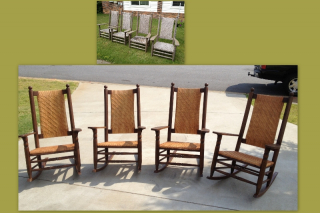 These P&P Chair Company Rockers were restored to their original condition. The caining is hand woven in a herringbone pattern and the finish is a water and UV resistant varnish. These P&P Chairs were originally made famous by John F. Kennedy as he was often photographed relaxing in these rockers.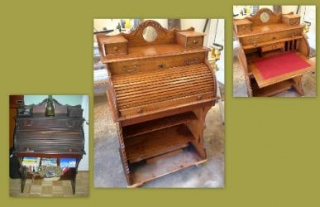 This was an old Victorian secretary that was in pretty rough shape. At some point during its life, it had been stained dark – away from the original color. I made a new replacement drawer and found replacement knobs. I also restored the felt which was completely missing. The entire piece was refinished in a more natural color which is how oak pieces of the time period were typically done.